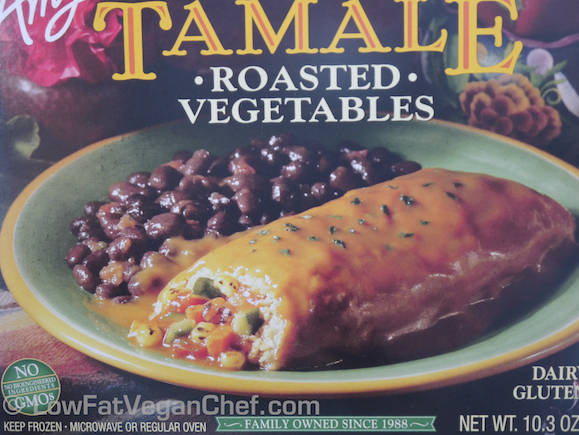 I've actually never had a tamale before (you don't often find them without meat or cheese). But I quite like this Roasted Vegetable Tamale by Amy's. It's much different than Amy's Enchiladas and has some good flavor and texture to it. The tamale portion is delicious and different, the black beans? Mmm not so good. I absolutely love black beans, but these ones crushed my expectations and not in a good way. All I could taste was salt and nothing else. 🙁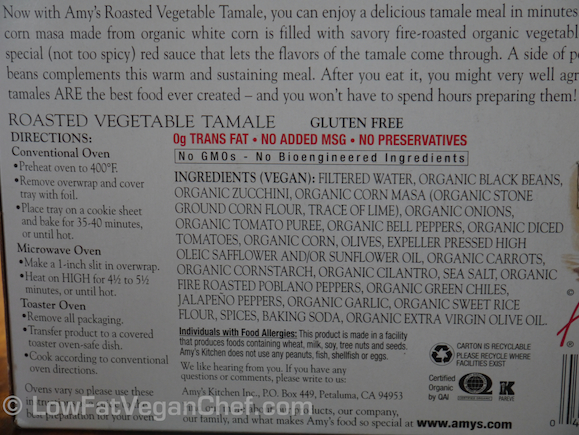 Ingredients all vegan!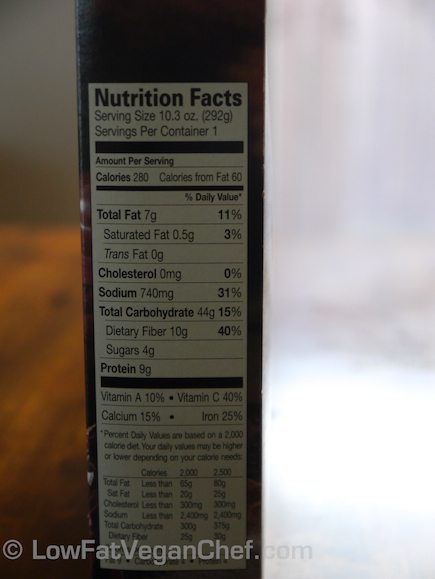 Nutritional information. This recipe is lower in fat than some of their meals, but seriously high in sodium. Over 2 1/2 times the amount health experts recommend per calorie (mostly in the beans).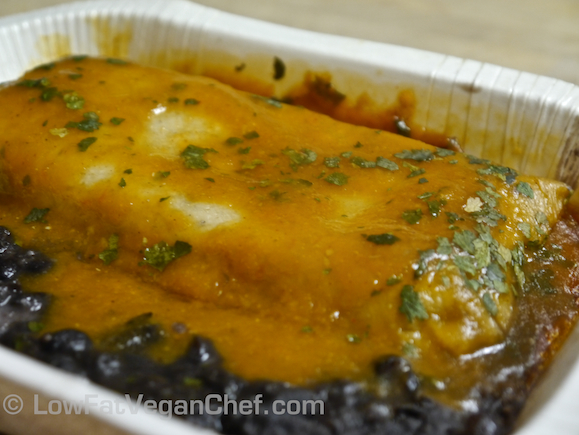 I wish these tamales came by themselves because I would enjoy eating them again. They were flavorful. But the beans are too salty. I'm not sure if they are catering to the lowest common denominator in salt lovers or what. I like some salt in beans but I don't know why Americans eat such salty black and pinto beans, it's hard to taste anything else but salt. Other seasonings like cumin and chili powder can add some interest and reduce the amount of salt needed in a recipe.
On to my overall product review.
Basic Nutritional Info: 280 calories 7 grams of fat 23% fat by calories 9 g of protein
Price: $3.38 USD on sale ($4.99 reg) In Canada about $6.29
Taste: Tamale 4/5 Black beans 1/5 way too salty
Texture: 4/5
Healthfulness: 3/5 (high in sodium)
Looks: 4/5
Low fat: No, medium fat
Vegan: Yes
Gluten Free: Yes
Soy Free: Yes
Nut Free: Yes
GMO Free: Yes
Would I eat it again? Yes, but not the black beans portion.
What could be improved? Use less oil in the recipe and much less sodium in the black beans and other seasonings instead.
Disclosure, I'm doing this review of my own accord, I was not given any free product nor was I paid to do this review.
Have you ever tried Amy's Roasted Vegetable Tamale? What did you think?