I'm REALLY excited about my new Comfort Soups To Keep You Warm recipe eBook. It's actually going to be part of a series of many recipe eBooks (each containing 30+ recipes, tips and how to's) later on.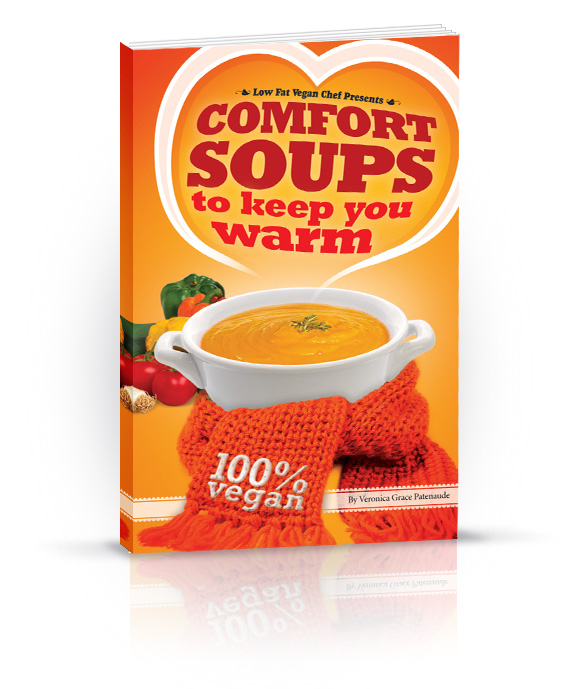 I've spent over 3 months working on these recipes, testing them, making them for family and friends, photographing them and putting together this eBook. It's a lot of work really. I had no idea just how much until now!
So while you may have thought I was just doing a few recipes here and there (which you've seen on my blog), I have actually been secretly hiding all of my BEST recipes on my computer!
You may have noticed there's not a lot of low fat vegan soup recipes on my blog so far, but we've actually been eating oil free vegan soups almost every day for months!
I feel like I have actually perfected the art of designing and seasoning oil free vegan soups. From making my own oil-free homemade vegetable broth and fresh cooked beans to putting them together in soups that are 100% healthy AND delicious.
I've even tested them out on my parent's omnivorous friends and they wouldn't have realized they were oil-free or vegan, until I told them! All they wanted to know was where can they get more, and like right now!
I know you are going to love these soup recipes, there's something for everyone and I took inspiration from cultures all over the world, including our world trip we did  a year and a half ago.
Most of these vegan soup recipes are naturally gluten free, or gluten-free friendly, nut-free friendly and most of them are soy-free as well.
Let's take a look at my delicious soup recipes now:
This is just a sample of all the soups in the book, there are a few more, including 2 vegetable broth recipes and some bonus recipes you can use for sides and garnishes for the soups!
I have to say, it's VERY difficult for me to choose a top favourite of all of these soups. I would eat them all again and again! After traveling all over the world, including Canada and the USA I can say that these recipes are MUCH MUCH better than the vegan soup offerings currently available at most restaurants. Most of the time their vegetable soups are rather watery and bland and need more seasonings and vegetables!
My soups are packed full of both vegetables and flavour that you will want to make these soups regularly as well. And who doesn't love one pot meals with few dishes to clean up? I know I do!
————————————
Here's How You Can Enter To Win A Copy Of My Low Fat Vegan Comfort Soups Recipe eBook
The contest is now closed.
Simply comment on this post below and tell me which one or two soups you are the MOST excited to try and why and you'll be entered to win! I will select from one of the comments below, so PLEASE make sure you put in your real name and a correct email address so I can contact you, should you be chosen. (These emails are viewable by myself only, no one else on the blog will have access to them.) The contest closes at Midnight EST Tues March 20 (9 PM PST the blog shows PST time stamps).
Comfort Soups To Keep You Warm is now available! Make sure you're signed up to my newsletter to find out how you can get a copy and get a free special bonus for ordering during the launch.