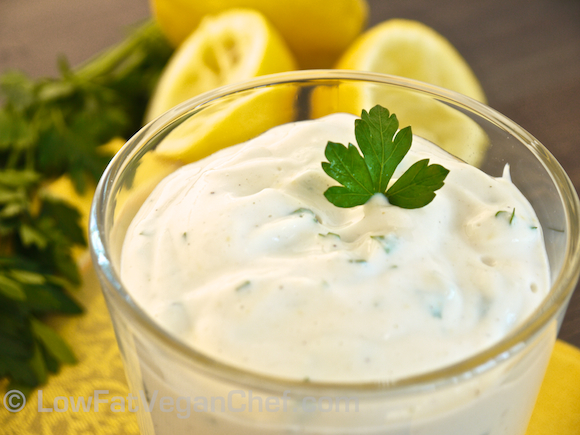 Readers often ask if I have a secret recipe for making veggie dip – but without all the fat (and the guilt should someone eat say half or the whole recipes while snacking on veggies…) And so I wanted to share this recipe for Herbed Tofu Ranch Dip from Comfort Foods From Around The World. This recipe is incredibly easy to make and hopefully you have most of these ingredients on hand. What I like to do is actually buy parsley, cilantro and green/spring onions fairly regularly and keep them in a little water fanned out to retain moisture without the leaves getting slimy and breaking down. Having some fresh herbs on hand to add to your salads, smoothies and to use as garnishes for curries and soups is wonderful so I highly recommend it.
What I love about making homemade dips is that I can customize the recipe to MY tastes – and you can to. If you looooove lemon, add a little more, if you looove garlic add a little more etc. Learn to work within your palate and taste test your homemade salad dressings and dips and get them just right so you want to make them again and again.
Since giving up dairy my mom has craved a creamy ranch dip for her veggies, so I made this recipe for her and loved it so much it ended up in my cookbook. I hope that it becomes one of your favorite veggie dips too!
That's all for today, still trying to take it easy on my hands and not type too much as they fatigue quite quickly still.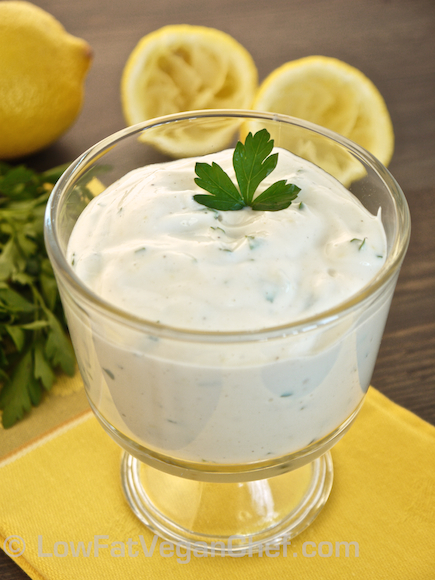 Herbed Tofu Ranch Dip

Serves 4
Ingredients:
1 12.3 oz. / 349 g package firm silken tofu (like mori-nu)
2 Tbsp. lemon juice
1 clove of garlic
1 tsp. granulated onion
1/2 tsp. nutritional yeast
2 tsp. maple syrup or liquid sweetener of choice
1/4 tsp. Herbamare or salt
Fresh ground pepper
1 Tbsp. parsley, chopped
2 Tbsp. green/spring onions, sliced (green tops only)
Directions:
1. Place ingredients (except for parsley and green onions) into blender or Vita-Mix and blend until smooth. Taste and adjust salt and pepper if desired. Add parsley and green onions and blend on medium high until the pieces are broken up a bit and distributed evenly.
2. Refrigerate if desired before serving. Serve with veggies or rice crackers.
Nutrition Facts: 4 Servings, Amount Per Serving: Calories 75.3 Total Fat 2.4 g Saturated Fat 0.4 g Sodium 202.3 mg Total Carbohydrate 7.7 g Dietary Fiber 0.2 g Sugars 5.3 g Protein 6.2 g
Additional Notes:
It is important to use SILKEN tofu, not regular tofu even if it's soft tofu. It will not have a nice smooth "dairy like" texture. Silken tofu is as the name sounds, silky smooth without any grit which is perfect as a dairy/cream substitute in dips, sauces and salad dressings. It is readily available at most grocery stores and health food stores in the Asian section of the store. Usually it is not refrigerated as the mori nu brand are shelf stable.