I was sent some new Vegan Blueberry Chia (gluten free) waffles from Frozen Guru to try out the other day. Guess what? They are oil free too! This product is currently only available in the USA (from what I can tell) and you may be able to find it at your health food store or from their website online.
Here's what the packaging looks like and the nutritional information.
About the ingredients used to make these waffles
Wholesome Ingredients –   By Weight
Non-GMO Tofu
Tofu is the key ingredient in our products and we only source our tofu from Non-GMO soybeans.
Soybeans are known for being a complete protein and for their rich vitamin and mineral content.  Soybeans are the only vegetable source that contains all essential amino acids.  They are also rich in calcium, iron, zinc,  phosphorus,  magnesium, B-vitamins, omega fatty acids and fiber.
All Natural Fruit Puree
Fruit puree allows us to naturally find the perfect balance between taste, texture and sweetness. Our waffles contain unsweetened applesauce or unsweetened banana puree.
Gluten-Free Rolled Oats
A great source of fiber from one of the few low glycemic grains that also help inhibit cholesterol synthesis.
Oats can help control glucose and insulin levels by slowly raising blood sugar levels over a lengthier period of time.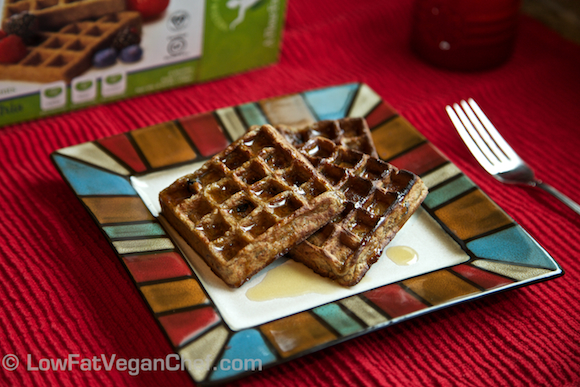 Here's 3 of my toasted waffles topped with some Canadian maple syrup. You may not be able to tell from this photo, but I am using a small side plate and the waffles are a little smaller than you might find in other commercial brands. This could be to reduce product costs or make them cook easier as these are 100% flour free and use gmo free tofu in the base of the batter. 2 would have been too small for me for breakfast, but 3 was just right. These small portions would also work for those who need smaller meals though or are using it as only part of a breakfast with some fruit or a smoothie as well.
They do make several other flavors, but I was told they are not vegan as they contain whey protein (a dairy protein).
I will admit that these really do taste like waffles! I wouldn't be able to say they taste gluten free at all. Gluten free flour isn't the greatest texture so it's nice they didn't use any in this recipe. The blueberries are really nice in there as well. Maybe they will be available in Canada one day, not all products get to make it here, but these are really tasty and convenient. I have tried many times to make oil free vegan Belgian waffles in my waffle maker and it just has not worked out. They end up dense. Frozen Guru's waffles are not dense, they remind me of eating waffles from the toaster as a kid! I recommend toasting them in a toaster until crispy 🙂
To find Frozen Guru waffles in your area go here: frozenguru.com/store-locator/
Disclaimer: Low Fat Vegan Chef was not paid for this product review, a review sample was provided in exchange for any kind of review.