(originally written for another blog of my journey's in summer of 2010)
Italy is a wonderful and diverse country with with an abundance of fresh home grown Italian produce and cuisines that vary from region to region.
I spent a few days in a number of cities checking out the sights and enjoying some delicious Italian fruits that summer.  So much so that I definitely plan on returning for a few months in the near future!
The Italians are very proud of their country, their heritage, their cars, name brand designers, their cuisine and the quality of their produce. Going to Italy is really stepping into a whole new world where everyone expects the best and only buys the best even if it's a little outside their means. Most of the main cities seem to host locals who look like they just stepped out of a designer catalogue! The tourists of course are the easiest to spot, they're the ones in shorts and a hat with a camera wrapped around their neck and their mouths gaping open .
In Italy the Italians have a reputation of driving VERY fast, often on winding and narrow single lane roads (that are in fact two way roads) and drive fast cars or high-end scooters like Vespas.  They also do not seem to obey traffic lights right away or crosswalks.  Almost all of the crosswalks in large cities like Florence or Rome are not used, you must simply find a relatively "safe" time to cross, take a deep breath and FIRMLY walk out onto the street and have traffic stop all around you and just get across. If you panic or run you will be in more danger than if you deliberately just cross the street calmly and confidently.  Italians don't like to be slowed down, cities have a lot of traffic and crosswalk lights only impede traffic further so it seems they are not used hardly ever! If you're from New York you may find this fact a little less intimidating than if you are from a small rural town!
Most of the people I met anywhere (outside of hotels and taxis) spoke very good English, a lot better than I anticipated and I'm sure it's due to the large amount of tourists they receive from all over the world every year.  Some of the top sights in the world are in Italy so it's no wonder they cater to English speaking travelers all over Europe, North America and Australia.
Deciphering Italian Menus
You will likely come across chalkboard signs or menus that have sections like Antipasti (starters), Insalata (salads), Primi piatti/il Primo (small first course), Secondi piatti/ il Secondo (main dish), Contorni/il Contorno (side dish) and Dolce (dessert).
If you plan on eating out, you will likely be ordering from the Antipasti section things like bruschette, caprese salad (without the cheese if you're vegan/plant-based) , olive tapenades etc. From the Primo: small portions of spaghetti, risotto or gnocchi, nothing from the the Secondo section, possibly something from the Contorno section if they have white beans, grilled vegetables, steamed asparagus, roasted potatoes, french fries, or long beans and you will probably be too full to have Dolce (dessert). 🙂
If you plan on avoiding the restaurants entirely then it will be a bit easier since you will be certain there aren't any added things like butter, cream or cheese.
Eating raw vegan in Italy is fairly easy when the produce is so fresh and delicious. If you have a market to go to and can wash and prepare some fruit and salads in your room you will have no problem.  The only issue is salad dressing.  There is no such thing in the Mediterranean! Italians use lots of olive oil and vinegar or lemon for salad dressing.  Perhaps bringing some with you or making it in a travel blender would be best for low fat salads. Avocado is not fresh and abundant here.
Eating vegan or plant-based in Italy is fairly easy, but only if you include bread and pasta at restaurants since no one in Italy would really understand why you would choose to not eat meat, fish, dairy AND pasta.  They love their pasta and fresh bread. You will find spaghetti and gnocchi everywhere.  There is also quite often minestrone soup on the menu, which is basically just vegetable soup in a tomato broth, sometimes white beans in sauce or grilled vegetables.  But predominantly vegan food served at restaurants is dried pasta and bread. (Fresh pasta is made with eggs, it is against Italian law to use eggs in dried pasta). For those who are gluten free, Italy is quite gluten free friendly, and now all children are tested for celiac disease since their culture relies on pasta and bread so much. Just ask.
You can also ask for risottos to be made plant-based with no cheese, if you find a vegetable based one like mushroom or asparagus. Seafood risotto is the most common so stay away from that.  Cafe's will likely have it premade, sit down restaurants will make it to order so you can always inquire if they will make it without the parmesan. Pizza can be made to order in many places without cheese, but is not as common at the tourist ready made pizza places (except in Rome). Pizza marinara (just tomato sauce and oregano) can be ordered almost anywhere pizza is made fresh, pizza bianca is dough brushed with olive oil and sprinkled with herbs, or you can make your own with tomato sauce and mushrooms, zucchini, eggplant, mushrooms, peppers, tomatoes, olives etc. without cheese.
If you're a vegetarian you will likely have zero problem eating in Italy, since you can basically eat any pasta with cream or cheese, mushroom risotto, bruschette, minestrone soup, salads, vegetarian pizza etc.
Simple Italian Phrases
If you can, learn some basic phrases like this to get by:
"Sono vegetariano" I'm vegetarian
"Vorrei un piatto di frutta" I would like a fruit plate
"Vorrei un'insalata" I would like a salad
"Posso ordinare questo senza carne o formaggio" Can I order this without meat or cheese?
"ma senze pesci" but without fish
"ma senza formaggio" but without cheese
"Ha delle verdure grigliate?" Do you have any grilled vegetables?
"Vorrei  un piatto di pasta secca, non frescha" I want to order some dried pasta, not fresh (because fresh pasta has eggs in it)
"Vorrei della minestra di verdure, per favore" I want to order the vegetable soup, please
"Una pizza vegetariana senza formaggio, per favore" A vegetable pizza without cheese, please
Like I said most people speak English, but maybe if you are eating at a small mom and pop restaurant, or in the country side it might be useful to know some basic Italian if you plan or ordering at restaurants.
Italian Markets
You should be able to find fruit markets or produce stands in every city you visit in Italy.  All the locals buy their produce here, and there are always vendors selling pre made items to tourists, such as fresh juice, cut up fruit in cups and possibly some meat or fish items. The markets open early so make sure you head there before 1pm, preferably before noon for better quality produce and a good selection.
Italian Grocery Stores
Like most of Europe there are not many "large" grocery stores or supermarkets.  Most are fairly small, selling essential dried and canned items with milk and meat products, a few vegetables and fruits to tide people over or for tourists who want to get everything in one place.
Italian Restaurants
*A special note about Italian restaurants. A lot of them charge a "cover charge" per person for eating at their restaurant.  I guess this could be like an extra automatic gratuity. Sometimes 3 to 4 Euros per person.  Often you will see menu chalkboards advertising: "No cover charge!" this is a good sign.  If it does not say this it will be added to your bill. Also menu items include taxes and gratuity of 10%, only tip extra if you feel it necessary.
Most cafes will be open continuously from breakfast to lunch, serving various things like English breakfast, Italian espressos, pastries, panini, pizza, and premade pasta dishes.



For dinner most restaurants are not open until 7pm (19:00) unless they are on a tourist street and are a cafe, then they will be open earlier but they sell basic low quality tourist food.
Italian Juice/Smoothie Bars
You will find a few places selling fresh squeezed juice whether it's on the street or in a proper shop. Juice bars will have everything listed in Italian so it would be good to learn the Italian words of the fruits you like so you can look at their combinations and see what you want.  They usually offer smoothies with yogurt or milk, so make sure to mention if you want it plant-based/vegan without dairy.  You can usually find at least one smoothie without dairy, like apple, orange and banana or with berries.  They seem to use blenders to make juices and not juicers as often. So don't expect juices to be exactly the same as you'd find somewhere in the USA.
Italian Sweets Vendors
In the Mediterranean you will find that a lot of people eat fruit for dessert or a snack so you will usually see cups of cut up fruit being sold for a few Euros.  Things like cantaloupe, pineapple and grapes together or just watermelon.  Very easy to find in large cities and especially on hot days! They will usually sell other types of desserts as well.
*Traveler's Tip For Sight Seeing*
Buy ALL of your museum passes or tour tickets online before you go to Italy. There can be huge lines at places like St Mark's Basilica in Venice, The Colosseum in Rome and the Ufizzi Museum in Florence. The Italian sun can be hot and standing in huge lines to buy a ticket and then enter is no way to spend your holiday.  We skipped the line at EVERY major attraction and it was awesome! You just google the ticket you want, find a website that sells it, pick the date and entry time you want to go to the site and purchase it online.  Print the ticket and bring it with you to exchange for a real ticket at the ticket office upon arrival. They are a little lenient in time too, so 15-20 min before or after your time seems to be no problem either.



Eating Plant-Based, Vegan and Vegetarian in Venice, Italy
Venice was the first city I went to in Italy and I had spectacular weather, low humidity and pure sunshine.  Make sure you get a map and have your hotel tell you how to get to and from San Marco's Square as basically you will be going there every day for tours, shopping or restaurants.  Better yet, picking a hotel that is within a 10 minute walk to San Marco's would be good too.  Mine was about 20 minutes away walking and going back and forth several times a day was a good workout dodging the masses of tourists on narrow streets!
Tours in Venice
Murano, Burano and Torcello: boat tour was well worth it. Inexpensive and a good way to see some little islands outside of Venice and get some beautiful photos of their painted houses. Stops for 40 minutes on each island to look around. 20 Euros each: http://www.tours-italy.com/venice-boat_tours-venice_three_island_boat_tours.htm
Walking Tour of Venice was not very exciting, but it came with a semi private canal tour (called Grand Canal Boat Tour & Walking Tour) 53 euros each: http://www.tours-italy.com/venice-day_tours-venice_day_tours.htm San Marco's Basilica was packed, you cannot take photos, you must cover up your shoulders and legs (ladies) and was pretty quick. Personally I think it's overrated. The Grand Canal Boat tour was great, the guide was excellent and it covered much more ground than a gondola tour simply because the boat can go faster.
Doge's Palace: really nice to walk through, not very packed and you can skip the line and buy a ticket online in advance. 18 euros each http://www.tickitaly.com/galleries/doges-palace-venice.php This ticket also gets you into all the other museums in San Marco's Square and can be used within 3 months, only once at each other museum.  Your time for Doge's Palace must be reserved ahead of time though.  Well worth it.
Venice Vegan/Vegetarian Restaurants
None!
Just modify menu items, no meat or cheese on salad, no cream/cheese in mushroom risotto, no cheese on pizza (although I heard pizza in Venice is not that great and of the low tourist quality variety) spaghetti pomodoro or marinara, and fresh orange juice or watermelon are a few things you can find almost anywhere. Sometimes cafes will have premade risotto or gnocchi that has cheese in it, so opt for a more sit down restaurant if you want made to order food.
Eating Plant-Based, Vegan and Vegetarian in Florence, Italy
I spent 2 lovely days in Florence and wish I had had more time! The city is very walkable, so find a hotel within a few minutes of the Duomo and you will be near most of the attractions you want and all the shops and restaurants. The Duomo is free admission too, so that's a huge plus and if you want to take some photos without all the tourists standing outside go around sunrise or 7am to get some great shots.
Florence Tours
Tuscany by Vespa – this was the most exciting tour I did in Europe. Learn how to ride a scooter and tour Tuscany.  Not for the feint of heart or those unexperienced with cycling or riding things like atvs, jet skis or scooters.  It is safe, but Italian drivers can be crazy so you need to keep your cool when they pass you on little country roads. No city driving at all and very fun.  120 euros each: http://www.florencetown.com/eng/tuscany-tours/single-day-tours/77/tuscany-by-vespa–original-1-day-tour.html
Museums in Florence
Pitti Palace – the Boboli Gardens were well worth it and you get some great shots of Tuscany, Florence and the palace. There are 2 tickets, 1 for the minor exhibits and the gardens and one for the art gallery inside the palace.  You will likely not be able to do both in one day, it's a lot of time walking, if you want both come on 2 separate days. You can buy tickets on site no problem.
Galleria de Accademia – really good smaller museum who's star attraction is the Statue of David. It is very impressive in person and in immaculate condition. You can spend about an hour or two here.  Buy your tickets online in advance to skip the line.
Ufuzzi Gallery – I did not have time to go to, but it is very crowded and busy all the time much like the Louvre.  Buy your tickets in advance and plan to spend most of a day here. Researching what you want to see in advance would be helpful too.
Florence Grocery Stores
They are a little harder to find in Florence, and fruit shops are scarce in the tourist areas. You will have to walk around on some side streets and find a vendor selling a few items or find the weekly market.
Florence Vegetarian Restaurants
Il Vegetariano 
Via delle Ruote, 30 R (if you're at the grocery store on this street you've gone too far)
39-055-475030
Vegetarian and Vegan friendly, has a raw and cooked veggie salad bar and vegan dressings
Closed Mondays, opens for dinner at 7pm.
This restaurant is really lovely, lots of space, affordable and a great vegan friendly salad bar you can load up your bowl with. No cover charge to eat here.  I think they are open for lunch too but may close around 2pm. Definitely my pick.
La Fonte 
Via Lucignano 15, Montespertoli (FI 50025)
+39-0571-609514
Vegan-friendly, Macrobiotic, Organic, Beer/Wine
Serves dinner only except on Sunday which is open lunch and dinner. Closed Mon-Tuesday.
Eating Plant-Based, Vegan and Vegetarian in Rome, Italy
I spent 3 days in Rome in the Campo De Fiori area, I really recommend finding an apartment in this area. (The hotels in Rome are very pricey so I opted for a vacation rental apartment with a kitchen.) You can walk to the market every day in this campo and get all kinds of local fresh fruits and vegetables until about 1pm when they close down. You get a much better selection here than at any corner store or grocery store. They are closed on Sundays.
When In Rome, Drink From The Fountains
You will find fountains EVERYWHERE in Rome. On the sidewalks, near churches, in parking lots, in monument complexes. All of it is free and completely drinkable. So bring your own water bottle and you can fill it up with cold water wherever you are and save money on buying bottled water. The locals assure us the water is very clean and Rome is proud to still be a city of water and marble after over a thousand years.
It was easy enough to just walk to most places from here, Piazza Navona, Trevi Fountain, the Pantheon, Spanish Steps, Vittorio Emanuele monument, Colosseum, Roman Forum, and Palatine Hill are all within a reasonable walking distance from here.  If you get tired you can always take a cab or transit back. If you see 3 or 4 places each day you will have lots of time to take photos, enjoy the scenery and shop.
Free Audio Tours in Rome
I saved some money in Rome by buying tickets online in advance for the Colosseum and downloading Rick Steve's free audio tours for Rome and listening to them on my iPod. Click here to download them. It's really worth it for the Roman Forum especially, otherwise you won't enjoy it as much and won't be sure what ruins you're looking at! Most of the other monuments are free to look at and you can come back again and again to avoid some of the crowds.
Rome Taxis
Do not take taxis from tourist places, you will pay a ridiculous price. (So ignore the guys standing outside the Colosseum!) If you get taxis that are on the go or at a taxi stand in the middle of the city it will be much cheaper than ones at any piazzas or monuments.
Rome Grocery Stores
They are available, you will find some things like apples, bananas, oranges and some vegetables, but the Campo Di Fiori market has a much better selection.
Rome Vegetarian Restaurants
REWILD Cruelty-Free Club 
Via Giovannipoli 18 (at Via Cristoforo Colombo)
39-06-97613910, 380-3279309
Vegan, Organic, Italian, Western, Fast food, Beer/Wine
All vegan menu includes sandwiches, burgers, hot dogs, crèpes, ice cream, pizza, bruschette, piadine, pudding and custard, hot and cold chocolate, smoothies, Italian tap beers, and more. Has wi-fi, live music and shows. Lunch is possible by advance booking. Cash only. Open Mon-Sun 8pm-2am.
Bibliothe 
Via Celsa 4, Roma (00186) (at near Piazza del Gesu and Pantheon)
066781427
Lacto, Indian, Ayurvedic, Italian
Rome veggie restaurant serving Ayurvedic food, whole grain organic pasta, and dosa. Offers a vegan meal-of-the-day consisting of 4 courses. Desserts may contain dairy. English speaking and will accommodate special dietary requests.
Pugliamonti 
Via Urbana, 104
346-321-83-76
Vegan-friendly, Ovo, Lacto, Italian
Vegetarian and vegan food.  All reservations with arrival before 20.30, will receive 50% discount (excluding drinks). Call to confirm open hours as hours may fluctuate. Open Mon-Sat 19:30-23:00, closed Sun.
Eating Plant-Based Vegan and Vegetarian in Sicily, Italy
I spent a short 3 days in Sicily, seeing Taormina on the East and Palermo (where the Mafia is from apparently!) on the West.  My advice would be to spend at least a week here if you want to see a few of the towns in between and enjoy some of the beaches.



Taormina is quaint town, but interesting as it's built into the upper cliffs and has very beautiful views of the bays and beaches below.  It's pretty touristy with lots of high end shops and restaurants.  There are two things that will frustrate you here. The first, driving can be stressful, even with a GPS the roads go off in all directions and if you miss your turn you have to drive a while to be able to turn around because the roads are on cliffs. The roads here are unlike any you have likely ever seen and they seem to build roads out of thin air supported from beams underneath. Parking is a nightmare, so you need to find one of the large parking garages before you get to the pedestrian walking street in the heart of old Taormina. The second thing is that grocery stores are really small and often only have 3 or 4 types of fruit, so you will have to try a few to get enough of what you want. It's not that big and you can walk to them, but bring backpacks so you can carry your groceries back with you.
Driving out of Taormina on the highway is fine around Sicily, the roads are not as narrow, there are 2 lanes, and if you just stay in the slow lane and let the crazy drivers pass you, you will be fine.
Palermo Sicily 
Palermo on the other hand is like Taormina's disfigured ugly cousin… and I mean that in the most literal sense. The area around Palermo is pretty and has some nice views, but being in Palermo you will ask yourself how you entered a third world country without even knowing it. Driving here will push your nerves to the limits.  Traffic lights are scarce, traffic signs are only suggestions, and people will park 2 or 3 deep on the sides of busy roads and you will have to be careful not to hit other side view mirrors while you weave in and out. Make sure you know where your hotel is and how you will get there, street signs are poor here and you can go in circles if you're in the downtown area as a lot of roads are only one way.  Hotels also don't really have parking so you need to find a parking garage.  They will take your keys and cram your car in along with the rest of the lot, but at least your car is safer there than on the street. (From being scratched or hit). Tuck your side mirrors in once parking as well!
Aside from the chaos and unpleasantries of how Palermo looks physically, the people are very nice and you can find street food everywhere! Everyone has a fruit shop and sits on the street in a chair with their fruit and vegetable displays until late at night.  There's a great selection of local produce for cheap.  There is so much fruit in Sicily just rotting on the trees because they cannot afford to pay people to pick all of it because the profits are so low when they sell it.
You won't need to find grocery stores here, you'll see fruit being sold everywhere you walk in the down town area.  There are also some vendors selling vegetables like boiled potatoes and corn in big tubs, but these are not good, they are cooked in really salted water and will not meet your expectations, so stay away!
You can also drive around Mt Etna and see a lot of people have fruit trees or orchards off the road, often with fruit sitting on them.  You can take a few pieces of fruit or possibly even go and ask to pick some for a fee.  It seems that they have so much fruit they don't know what to do with it, and they don't even eat much of it either.  Heaven forbid they do not get their pasta and fish intake!
Tours and Attractions in Taormina, Sicily
Taormina – Legendary Sicily
This was an excellent tour. The owner, Eddie has a Ph.D in Geology and is an expert on volcanoes and history. He will tell you some amazing stories and show you things you've never seen before. He's probably the best tour guide I've ever had, and he's a tour guide second and geological expert first!
I went on the Etna-Alcantara off-road tour. This is a great full day tour, so be sure to pack your tupperware of fruit or make a sandwich! Check out his website http://www.legendarysicily.it/escursioni-naturalistiche-inglese.php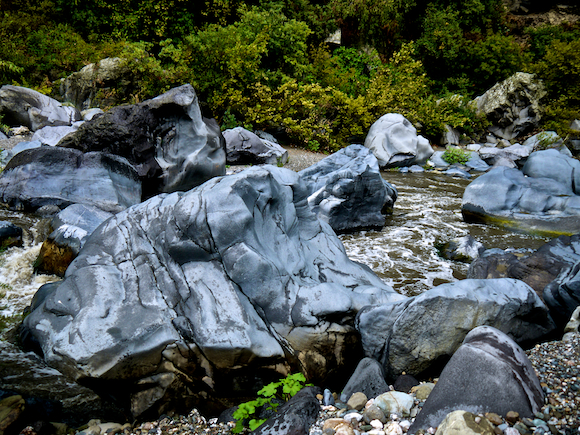 Well that's all for my in depth report on traveling to Italy.  I hope you enjoyed it.  Let me know what you think and if you've had any adventures in Italy.