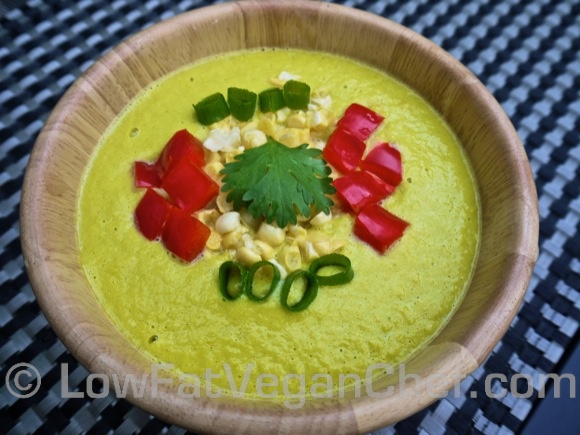 This recipe is featured in my 2 part Savory Raw Dinner Recipes DVD set.  It is super easy and very delicious!
When I was thinking up raw soups to make, that would look great and I would enjoy eating, I got the idea of packing in more and more veg into it instead of having it be all heavy from nuts or lots of avocado. The solution was to add some fresh yellow bell pepper, for flavour, bulk, and colour. It really adds to this simple combination of corn and avocado and took it to a whole new level.
Whenever I show people pictures of this soup, they can't believe it's raw and think it looks so great. Well it tastes even better too. You can also get very creative with the garnishing.  I went for a very simple look to display the solid soup ingredients and garnishes. Of course if you make the recipe you can add as much as you like. You can also make this a little spicier by adding more chili powder.
The beauty of raw soups, is that they are quite fast to make (aside from cutting fresh corn off a cobb, you can use frozen if you must) and you can blend them until they are the temperature you want in the Vitamix. So they can be room temperature, warm or quite warm. Just blend for 30-60 seconds for room temperature 1-2 minutes for warm, and then once you get past 2 minutes you are essentially really heating the soup and can cook it a little.  So keep this in mind, depending whether you want a room temperature raw soup, or a transitional warm "raw" soup.
This plant-based corn chowder will please even the most skeptical people of raw vegan soups. Just blend it a little longer so it's warm and not cold if you're using corn and bell peppers straight from the fridge.
Please let me know what you think! I love your feedback. For more delicious recipes check out my Savory Raw Dinner Recipes 
Creamy Raw Mexican Cilantro Corn Soup
Ingredients:
3 cobs of corn
2 yellow peppers, cut into chunks
1 small onion, cut into chunks
2-3 cloves of garlic, diced
1 small avocado or 1/2 large
1/2 cup cilantro diced
2 1/2 tsp cumin
1/2 tsp herbamere/salt
1 1/2 large limes juiced
1/2 red pepper, diced
diced chili peppers or chili pepper powder to garnish
green onions to garnish
Directions:
1. Cut the corn off the cob. (Make sure you have a sharp knife, a bowl or plate to catch the corn, and a towel. It's messy!)
2. Put half of the corn, both yellow peppers, avocado, onion, garlic, half of the cilantro, cumin, lime and salt into the Vitamix or food processor.
3. Use the Vitamix tamper to push ingredients down into blade and blend until creamy. (If you don't have a Vitamix and need to add a little water to make it blend, do so)
4. Pour into 2 bowls. Add remaining corn, and red peppers. If you like it spicy add diced chilli peppers.
5. Garnish with cilantro, red pepper, green onions and a sprinkle of chili pepper powder.
Serve!
How did you like this soup? Did you know you can use the base of this as a raw salad dressing too?