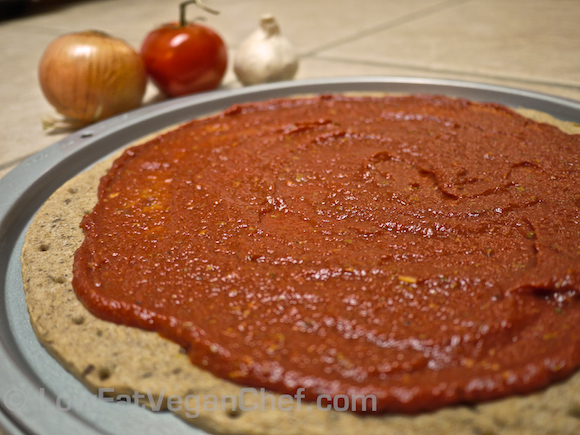 Vegan pizza is probably something you'll have to make at home, depending where you live because not a lot of places offer vegan cheese, or are familiar with cheese-less pizzas if you go that way.
I really don't like store bought pizza or pasta sauces, they're full of junk and usually bland.  So I make my own.  I wanted to come up with a really fast recipe for thick pizza sauce that you don't have to spend forever cooking on the stove and adding raw ingredients too. Once mixed this is ready to go on the pizza.
I also like thick sauces, because low fat healthy pizza crusts can be a little dry and you really want to have that moisture from the pizza sauce on there. Here's one that's oil free, fat free and vegan!
Quick and Easy Thick (Vegan) Pizza Sauce
Ingredients:
1 can of tomato paste
6 tbsp of water with 1/2 tsp Better Than Bouillon Vegetable base OR 6 tbsp water mixed with 1/2 cube bouillon
1 tbsp liquid sweetener (honey, agave, brown rice syrup)
3/4 tsp dried oregano
1/2 tsp freeze dried garlic or garlic powder
2 twists of ground black pepper
dash of smoked paprika
dash of salt *if desired
sprinkle of chilli flakes *if desired
Directions:

1. Open the can of tomato paste and scoop into a bowl. Add all of the ingredients to the bowl and stir to combine. Taste test, adding additional seasonings if desired.
2. Spread over pizza crust leaving a small gap for the crust of the pizza.
This recipe should cover up to an extra large pizza with sauce, or several personal pan pizzas.
I had extra left over even after liberally topping my large pizza crust. I also topped it with my special recipe of sautéed baby portobello mushrooms and onions, frozen pineapple, kalamata olives and fresh garlic. As you can see I really like pineapple! Mine is the side on the left lol.
If desired you can also sprinkle some Daiya mozzarella cheese on it, but for a truly fat free recipe you can skip it.
Let me know what you think! What do you put on your vegan pizza?