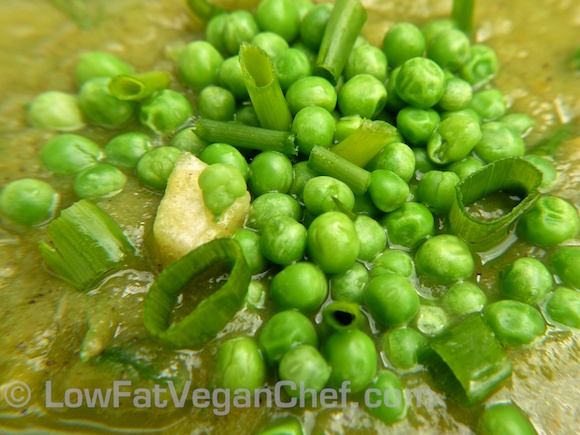 Green peas and dill are some of my favourite green things to eat. So I decided to combine them into a tasty raw soup recipe.
This is sort of a chunky style raw soup with diced veggie chunks in a blended base. Feel free to customize it as you like, but I find that having something to chew on in raw soups is nice so it's not just eating smoothie with a spoon.
Alternately, if you don't love green peas raw, you can substitute more of something else like zucchini, cucumber or even diced peppers.

Raw Green Pea Lemon Dill Soup
Makes 2 servings
Ingredients:
Soup Base
2 cups zucchini, peeled and chopped
2 cups yellow or orange tomatoes, chopped
1 cup of celery, chopped
1/2 cup dill, chopped fine
4 green onions, chopped
5 or 6 small dates, pitted
1/2 lemon, juiced
1/4 cup of chia gel (or a tbsp or two of chia seed)
2 tsp celery powder or 1/2 tsp salt (optional)
Veggies:
1 celery stalk, diced
1/2 cup zucchini, diced
1/2 cup cucumber, diced
1 cup fresh or frozen peas
1 green onion, diced
*Using a veggie chopper is the fastest way to get the vegetables into little cubes to stir into the soup.
Directions:
1. Blend soup ingredients in a Vitamix or blender until well combined.
2. Divide soup and veggies into 2 bowls and garnish with extra dill or green onion.
Enjoy!
What do you think of this recipe?